Designing a logo for your company isn't an easy task. The logo should represent what you stand for. It should burn itself into the synapses of others' brains. Simple, but instantly recognizable. Apart from distinguishing itself from competitors' logos there is a slew of technical and stylistic restrictions: harmonizing colors, legibility even in small sizes, printing colors (the dreaded CMYK), line thickness, kerning…
I went down the most obvious route. The logo had to be a brain. No, not that slimy and bloody thing you see on Halloween at every corner. More a cute and cuddly one. But there's a fine line between cuddly and childish. The games I'll make are definitely not NSFW, but mostly too complex for the little ones. So the decision was made to draw it in a comic style. Yes and that meant with eyes too.
After spending some time looking for a great illustrator, I finally went with Allan Ohr and boy that was a fruitful collaboration. It just needed very few iterations and the logo for Stimulus Games was born. Allan has a very distinct style that I liked and every pixel shows. So here it is again in all of its glory.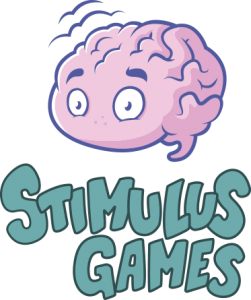 I can't wait to see this logo design soon on millions of board game boxes. Ok, just kidding. Get real. Some printed business cards will do for the next months.
MerkenMerken
MerkenMerken
MerkenMerken
MerkenMerken